This week DCAYA's office has become a satellite BeyHive, abuzz with excitement for our upcoming collaboration with #BeyGOOD— Beyoncé's global charity campaign—and STATE Bags. On Friday, we'll be joining our community partners to bring STATE backpacks, school supplies, and an afternoon of fun to 250 of the District's at-risk elementary school students during a "Pep Rally for Good". We're thrilled to be one of six local partners across the east coast chosen by the #BEYGOODxSTATE "Give Back Pack Program"  to join forces with Beyoncé's youth advocacy work and elevate our issue areas.
So you ready, Bey? Let's go get 'em!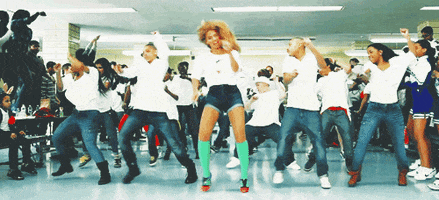 By
adding time to the conventional school day in collaborative partnerships
with educators from
community-based organizations, students gain access to personalized learning and a wider array of academic, social and emotional opportunities.  Research shows that students shine the brightest and are up to 20 percent more likely to graduate from high school when they have access to expanded opportunities to explore their interests and build on their academic skills.
 Young people in the District struggle to find entry-level employment opportunities which serve as important foundations for economic stability and lifelong success. DC's Summer Youth Employment Program provides a first step towards workforce development for over 14,000 youth ages 14-21 every summer.  Yet to truly prepare youth for the world of work, this short-term experience must be complemented by quality year-round programming that provides youth with the educational credentials, mix of hard and soft skills, and work experience needed to thrive well into adulthood.
 Homelessness among youth in the District represents a varied group of young people struggling to
secure basic needs while also trying to acquire the skills necessary to make the transition from adolescence to adulthood.  This year, DCAYA successfully advocated for stronger supports for homeless youth to include the funding of a drop-in center, 15 new beds for homeless young people, an annual homeless youth census and a street outreach program. While these advocacy victories will undoubtedly benefit homeless youth, the need remains to fully invest in a cohesive, city-wide strategy to prevent, address, and evaluate youth homelessness in DC.
With an estimated 7,000 young people ages 16-24 completely disconnected from school and work, the
District has a vested interest in developing a smart and cohesive system of youth re-engagement.  According to DCAYA's 2013
Connecting Youth to Opportunity
report, District youth strive to find on-ramps back into the education to career pipeline once they've disconnected, and many will make multiple attempts to re-engage.  This fall, the District will capitalize on this youth resilience by opening its first Re-engagement Center—a one-stop-shop where youth can access a broad range of re-engagement services tailored to their individual needs.
As a coalition, DC Alliance of Youth Advocates draws from the insight of its 130 youth-serving members to craft local policy recommendations and build advocacy campaigns that support the District's most vulnerable, yet resilient young people. Behind our work already stands a robust community of dedicated youth development professionals, families, teachers, neighbors and mentors.  Add Beyoncé to the mix and together we've got plenty superpower.
DCAYA would like to thank Beyoncé, #BeyGOOD, and STATE Bags for partnering with DCAYA to help us bring much needed resources to the youth of DC!